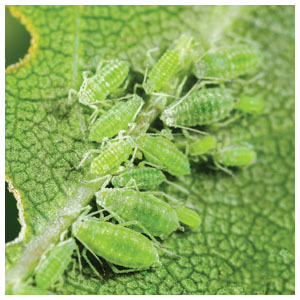 How To Control Aphids Organically
Aphids, family name Aphididae, are a common pest to gardeners, commercial growers and greenhouses due to their wide species diversity and rapid reproductive cycle. There are some 1,351 species of aphids currently recorded in the US and Canada, of which about 80 species are pests of food crops and ornamental plants. Most get their names from the plants they attack, i.e. the green peach aphid, the cabbage aphid, or the rose aphid.
Identification & Appearance:
Aphids are slow moving and come in shades of green, red, brown, black and yellow. Their oblong bodies have two small tubes, called cornicles, projecting from their rear that are unique to them. These allow aphids to get rid of excess sugar in the form of honeydew. They have needlelike mouthparts which they use to suck juices out of plants. Aphids do not chew. If you notice chewing damage on a plant, look to identify a different culprit.
Aphid Damage:
Each plant reacts differently to aphid attacks. Some show no adverse response to aphids, while others react with twisted, curled or swollen leaves and/or stems. Symptoms of aphid damage include decreased growth rates, mottled leaves, leaf yellowing, stunted growth, browning, wilting, low yields and death. Due to the way they feed, aphids can vector bacterial and viral diseases, which can be much more difficult to control than the aphid population. For instance, the green peach aphid (Myzus persicae) is a vector for more than 110 plant viruses.
One of the most common annoyances caused by aphids is their excessive waste production, called "honeydew". This sticky substance drips onto plant leaves and stems and can harbor fungal diseases like powdery mildew and Black Sooty Mold. These can leave plants with unsightly patches and limit growth potential. Once the aphids are eliminated, the foliar fungal diseases often dry up and die.
5-Step Aphid Control:
1.) Trap & Monitor
2.) Repellent Sprays
3.) General Predators
4.) Knockdown Sprays
5.) Aphid Parasites
$8.80–$302.00

$7.04–$302.00

$18.00–$65.00

$13.75–$45.00

$12.99–$139.99

$12.99–$99.00

$10.99–$32.49

$6.00–$32.49