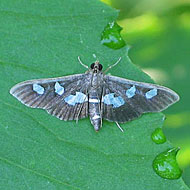 Desmia funeralis
The adult Grape Leaf Folder moth is dark brown, almost black with 2 white spots. They have a wingspan from 1" to 1 ¼". The moths emerge in the spring and lay eggs on the underside of leaves.

The larvae are light green caterpillars with faint dark markings and fine yellow hairs on each segment, and are 2 cm long when full grown. When the larvae are large enough, they fold leaves, exposing the undersurface, and hold the edge in place with bands of silk thread. The larvae then feed on the tissue inside the fold, skeletonizing the upper surface. This gives vines a ragged or patched appearance.
Grape leaf folders infest both wild and cultivated grapes and are primarily found east of the Rocky Mountains and in California.
Bacillus thuringiensis
kurstaki and Spinosad are recommended sprays for achieving control. These products are shown below.
For more information please see our Caterpillars and Moths Control page.
© Copyright Photo by Lynette Schimming.