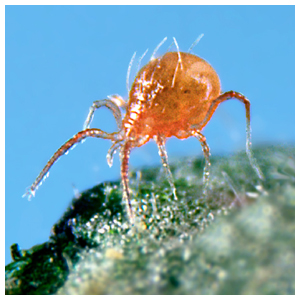 Effective Control of Two-Spotted Spider Mites
Phytoseiulus persimilis is a fast-feeding spider mite predator. Release P persimilis at first sign of mite infestation.These predatory mites have high consumption rates, feeding on approx. 5-20 pests and pest eggs per day! Adults will begin feeding as soon as they are applied. Should not be used to control broad, cyclamen or russet mites.
P. persimilis PLUS is reared in an innovative way to include mobile mites (adults and juveniles) as well as eggs. It arrives pale and changes to orange/red after predation begins. Adults begin feeding upon dispersal. Eggs can mature in about a week. The variety of life stages allow for both immediate and ongoing control as the mites mature. PLUS FAQs (PDF)
Optimum Temperature and Humidity: 68-90°F (20-27°C) and 60-90% Relative Humidity
Choose the Best Option for Your Needs:
Phytoseiulus persimilis PLUS: For immediate and ongoing control with multiple life stages, P persimilis PLUS comes ready to feed. Apply evenly or concentrate on hot spots.
Phytoseiulus persimilis PLUS Sachets: Sachets arrive with a variety of life stages in two release options for control over time. Easy to hang with plant canopy.

Controlled Release Sachets: For preventative use, mites emerge 8-12 days after application.
RAPID Release Sachets: Mites emerge 3-5 days after application of Rapid Release sachets.
Phytoseiulus persimilis: Conventional orange/red adult mites for hot spots or at the end of vegetatative cycles
Beneficial insects are most effective when released preventively or at the first sign of pests. Apply periodically over the course of a growing season. ARBICO Organics is happy to work with you to develop an IPM program; however, results will vary based upon growing environment, growing conditions (temperature, relative humidity), interactions with native insect populations, growing medium, etc. Please provide as much detail about each of these factors as possible when dealing with one of our pest control specialists. This allows us to make the most accurate and cost-effective recommendations possible.