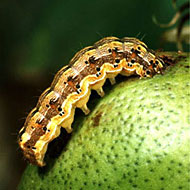 Budworm or Bollworm are the common names for any of several species of the larval stage of moths that attack the fruit of crops by burrowing into the stem connection of the fruit. Their forewings are usually light yellowish-olive with a dark spot near the center. The hind wings are white with a broad, dark brown or brownish-gray border along the outer wing. The hairs of the head and thorax are the same color as the forewings, the abdomen is somewhat paler. Eggs are small, dome-shaped, and white when first deposited, but develop reddish-brown bands before hatching. The damaging stage, the larvae, are moderately hairy and may be cream-colored, pale green, rose, or brown. As they mature, they develop pale longitudinal stripes and scattered black spots. The pupae are initially a shiny reddish-brown, they become dark brown near the time of adult emergence.

In addition to burrowing into young cotton bolls and squares, or the fruit of the plant, they eat superficially on the fruit and bolls. The major damage is from creating an entry for the introduction of pathogens.

Each of these larvae is capable of destroying several fruiting forms; therefore, low populations can cause economic damage. Adult moths emerge from late April to mid-May to mate and lay eggs.
For control products and more information please see our Caterpillars and Moths Control page.