Otiorhynchus sulcatus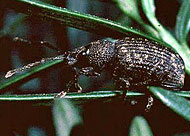 The Black Vine Weevils are the most destructive and widely distributed species of root weevil in the genus Otiorhynchus. They are found throughout the U.S. and Southern Canada. Sometimes called the taxus weevil, because of their propensity to eat plants in the Taxus family; these pests are also very interested in over 100 species of plants including rhododendrons, yews, euonymus, Japanese holly, and the roots of hemlock species. Eggs are laid in soil at the base of host plants. The larvae overwinter in the soil, making the beneficial nematode a prime control for this pest. Adults feed at night on the foliage of plants and hide in the soil during the day. Damage caused by adults is characterized by crescent-shaped notches on leaves. The larvae feed on the roots of plants and cause more serious damage. Beneficial nematodes can help control black vine weevils in the larval stage.
Please see the control products listed below.
For information about different species of weevil click here.