---
2023 Holiday Shipping Schedule
Plan Ahead! Click here to view our 2024 Holiday Shipping Schedule.
---
Online Order Processing
Online orders may take 24-48 hours to process (excluding weekends/holidays).
For urgent orders, please call 1-800-827-2847 and speak to a representative during business hours.
---
Contact Information
ARBICO Organics
10831 N Mavinee Dr. Suite 185
Oro Valley, AZ 85737
Phone: 520-825-9785, Canadian Customers: 1-800-665-2494
Toll-Free: 1-800-827-2847
Fax: 520-825-2038
E-mail: CustomerCare@arbico.com
Ordering
Place your order online or call our toll free number to speak with one of our sales representatives. Online orders take up to 48 hours to process (excluding weekends). Our sales department is open Monday through Friday from 8:00AM until 4:30PM Arizona Standard Time (our current time). We pride ourselves on providing superior customer service and encourage our customers to contact us immediately if any questions that arise.
Payment Methods
We accept the following payment methods: American Express, Discover, Master Card, VISA and PayPal. If for any reason the information you provide for credit card payment is incorrect, you will receive a notification by email. ARBICO is not responsible for missed shipping deadlines due to payment processing issues.
Checks & Money Orders: Please send checks or money orders to the following address.
ARBICO Organics
Attn: Sales Department
10831 N. Mavinee Drive, Suite 185
Oro Valley, AZ 85737
When sending a check or money order contact us for a shipping quote. Please make checks and money orders payable to ARBICO Organics. Please include a list of the products you wish to order, your shipping and billing address, contact information and telephone number. For checks, also include your driver's license number and date of birth.
Wire Transfers:
International orders require an electronic bank transfer of funds. Please contact ARBICO Organics for bank routing information. Your order will be processed once the wire transfer has been completed.
Shipping Policy
Shipping charges will be calculated automatically during the checkout process. Some products ship via a specified method while other products may have several options. You will see the shipping total before you complete your purchase. Additional charges may apply when shipping to Alaska and Hawaii and we will contact you before processing your order.Tracking will be emailed to you once your items have shipped. Consider signing up for FedEx Delivery Manager to be notified via app or SMS.
Shipping Couriers Available: USPS (US Mail), UPS and FedEx. Freight options available upon request.Some items may require specific shippers.
Freight Shipping: Freight shipping quotes are required for orders totaling more than 150 lbs. Please call us at 1-800-827-2847 to obtain a quote for freight shipping costs. The customer(s) will be required to answer the following questions:
Is the delivery address residential or commercial?
Is the delivery address a rural address?
Is there a scheduled delivery time required?
Is a gate code necessary to ensure delivery?
Is a lift gate required upon delivery?
If proper delivery details are not disclosed at time of order placement and new charges are incurred, the customer is solely responsible for the costs. Additional charges will be processed using payment information provided.
Please check your order to make sure that the order is complete and undamaged before signing the bill of lading for all freight deliveries. ARBICO Organics will not accept responsibility for lost or damaged goods unless you have made a note on the bill of lading at the time of delivery.
Order Processing:Online order take up to 48 hours to process (excluding weekends). Same day processing is not available for online orders. Many live products require Overnight shipping and lead times. See shipping information and order deadlines for specific insects. Tracking will be emailed to you as it becomes available.
FedEx Ground Estimated Delivery: The graphic below shows the estimated delivery times countrywide for FedEx Ground and FedEx Home Delivery shipments leaving our shipping facility. Delivery times for drop shipped and expedited items may vary from the map.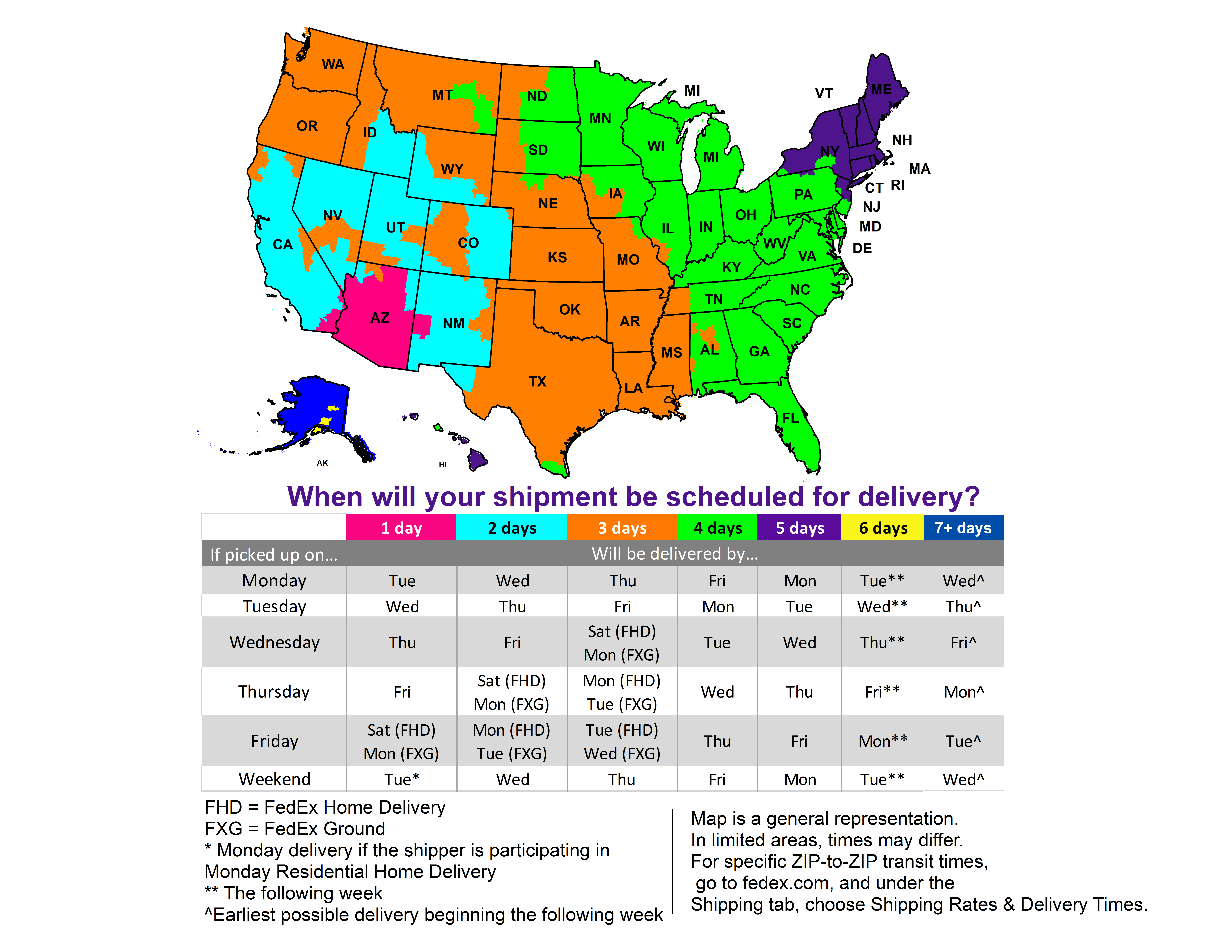 Shipping Included Items:
Some products we sell have shipping included. Shipping is included for the lower 48 U.S. states only. Additional charges will apply to ship these items to Alaska and Hawaii.
Live Shipments: ARBICO Organics guarantees that live product orders will be alive upon arrival. If you have viability concerns about a live shipment, please contact us within 24 hours at either 1-800-827-2847 or customercare@arbico.com. We will require photos or videos regarding viability. Read our full Live Delivery Policy here. No live shipments to Hawaii allowed.
International Orders & Shipping
International shipping is available. Please call for ordering, shipping quote and possible product restrictions. International orders cannot be placed on our website. Please call to place an order.
Customs Policy
When shipping your order outside the US and US territories, you may be subject to import taxes which are levied when your package reaches its destination. Additional charges that may apply for customs clearance must be paid by the customer. We have no control over these tariffs, and therefore cannot predict what they may be. Please contact your local customs office for further inquiries. Moreover, when ordering from ARBICO Organics, you are considered the importer of record and consequently, you must comply with all laws and regulations of the country in which you are receiving the goods.
Your privacy is important to us. We would like our international customers to be aware that over-the-border shipments are subject to opening and inspection by customs authorities. In addition, we may be required to supply certain order, shipment and product information to international carriers. This information will be communicated to customs authorities in order to facilitate customs clearance and to comply with local laws.
Customs authorities require us to state the value of your order on all customs forms.
Import permits may be required for products, please verify the documentation necessary before placing your order. Obtaining pertinent import permits is the responsibility of the purchaser.
Out-Of-Stock or Backordered Merchandise
If an item is out of stock or backordered, we will notify you via email.
Receipt of Your Order
It is extremely important to check your order upon receipt. Please notify us IMMEDIATELY if there is a shortage, damage or any other discrepancy with your order.
Return and Cancellation Policy
Read full return and cancellation policies here.
To cancel any scheduled future shipments, we require a notice of 7 business days prior to shipment going out.
IMPORTANT: For freight deliveries, please check your order to make sure that the order is complete and undamaged before signing the bill of lading. ARBICO Organics will not accept responsibility for lost or damaged goods unless you have made a note on the bill of lading at the time of delivery.
Warranty Policy
If you have received a defective product please call our Customer Care department to arrange for a replacement. We guarantee live insects upon delivery and require notification of problems within 24 hours of delivery.Read our full Live Delivery Policy here.
Sales Tax
ARBICO Organics orders are subject to applicable sales tax. Sales tax is determined by state and local policies.
For tax exempt orders, please call 800-827-2847 to place your order over the phone.Tax except documentation will be required.
Privacy Policy
We value your privacy. Please click here for more details concerning our Privacy Policy.
Security
Our goal is for you to be as comfortable shopping with us as you are shopping with a local supplier. We take the issue of security very seriously. Every time you send us your credit card number and your billing and shipping information, we use the industry-standard Secure Sockets Layer (SSL) technology to prevent the information from being intercepted. Together with the electronic commerce community, we have taken every measure to ensure that your online shopping is as safe as ordering from a catalog or making a purchase from a retail outlet.
Thank You From The ARBICO Staff - We look forward to providing you with excellent customer service and all your organic growing needs.