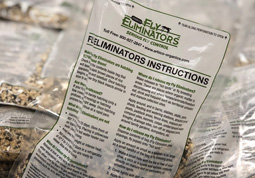 STEP 1: Fly Eliminators – Biological Fly Control
What are they? The best fly control on the market! Order Now
Fly Eliminators are gnat-sized parasitic wasps that feed on and breed in filth breeding fly pupae. They have long been used by horse and livestock owners to eliminate flies before they hatch into adults. Fly Eliminators do not bother horses, cattle, livestock, pets or plants. Browse our frequently asked questions page or call our fly control specialists at 1-800-827-2847 with any additional questions you may have!
STEP 2: Manure & Odor Control
Limit fly breeding sites by removing manure and limiting odors.
SCD Barn Kleaner & SCD ScentGuard can be applied directly to manure to speed up decomposition & reduce fly attracting odors. They can also be used to wash animal stalls or other heavily used facilities.
STEP 3: Maggot Control
Apply treatments for maggots near manure and other "hot spot" breeding areas.
NemAttack - Beneficial Nematodes, Sc: Beneficial Nematodes parasitize a wide variety of common pest insects including the maggot stage of flies. After two weeks, noticeable reductions in target pest populations will occur.
balEnce Fly Spray: Treat breeding areas and stalls with balance Fly Spray to kill maggots as they develop. Contains a beneficial fungus used for insect control in gardens, farms and livestock settings.
Hister Beetle: Commonly released in poultry facilities to control fly eggs and larvae (maggots). Both larvae and adult hister beetles are predatory.
STEP 4: Adult Fly Control
We recommend trapping adult flies and spraying your animals to reduce adult flies and egg laying.
Solar Fly Trap: Our #1 Selling Fly Trap! This long-lasting aluminum trap attracts and traps adult flies with a yeast bait. Each trap comes with 1 bait pack, enough for 5 weeks. Simply rinse the trap out and add more bait to use it from season to season.
Captivator® Fly Trap: This lightweight, yet heavy-duty, trap can stand up to the elements and keep working for months of fly control. It only takes three easy steps to get things going with this trap: dump attractant in, add water and place outside.
Ecovet Fly Repellent: A novel fly & biting insect repellent designed to disorient pests and aid recovery of sensitive/irritated skin. Listed to repel filth & biting flies, gnats, midges, lice and more.
Equiderma Horse Spray: A pyrethrin-free favorite of horse owners! Antibacterial, antifungal and anti-inflamatory, Equiderma is formulated to kill on contact, repel after application and leave animal coats shiny.
Continue browsing fly control solutions below or contact our sales team for more information about the best fly control treatment for your needs.
$56.85–$2,560.95

$44.85–$2,056.95