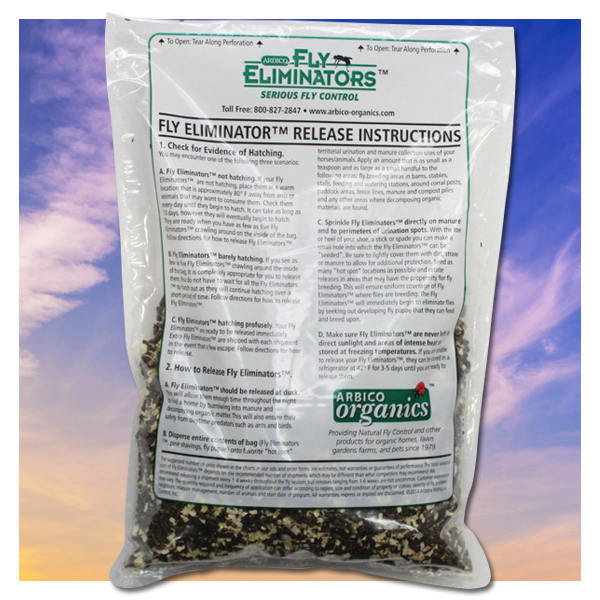 Fly Eliminators® Programs
Create A Fly Eliminator Program In 4 Easy Steps To Fit Your Needs!
Find Your Fly Zone
Begin by matching your state to the Fly Zone you are in. You may want to shift a zone if your elevation or microclimate is unusual. Start & end dates shown on the map indicate suggested start and end dates for Fly Eliminator programs. You can start anytime during the year.

Choose "Year Round" for climates that have flies all year and start now.
CHOOSE NUMBER OF HORSES
Be sure to account for all animals and livestock on your property when selecting the number of horses. Not sure what you need? Give us a call at 1-800-827-2847.
What You Will Receive:
1 Horse: 1/4 Unit
2-5 Horses: 1/2 Unit
6-10 Horses: 1 Unit
11-15 Horses: 1 1/2 Units
16-20 Horses: 2 Units
21-25 Horses: 2 1/2 Units
26-30 Horses: 3 Units
31-35 Horses: 3 1/2 Units
36-40 Horses: 4 Units
41-45 Horses: 4 1/2 Units
46-50 Horses: 5 Units
Program Type
Shipment/Application Frequency
REGULAR
PROGRAMS:
Ships every 4 weeks. For low to average fly levels, frequent manure management and few neighbors.
PREMIUM
PROGRAMS:
Ships every 3 weeks. For average to high fly levels with weekly manure management or nearby livestock.
SUPREME
PROGRAMS:
Ships every 2 weeks. For high fly levels with infrequent manure management and nearby livestock.
CHOOSE SHIPMENT SCHEDULE
Select from the dropdown list to customize the number of shipments and program start/end date. The shipment schedule will display below for your review when a selection is made.
For "Year Round" programs, shipments will start immediately. Not sure what you need? Give us a call at 1-800-827-2847.